We asked Gunner and his loyal owner, Katie, to road test one of our own winter favourites. Read on to find out what they thought of this chunky cable knit sweater and scarf combo.
Katie comments, "Our first impressions of the Canine & Co winter jumper and scarf set is that we are in love!!"
The style is just beautiful. The chunky crew neck jumper is so stylish – perfect if you want your pet to be the best dressed dog around! The red colour, which we received, is just amazing. It really suits our little black cocker spaniel and is perfect for those autumnal walks and wintry days. We also love the scarf – what a lovely idea to make your dog look fabulous and keep him warm on a crisp, chilly day! We feel the logo finishes the set off, and the design is great with a really classy look.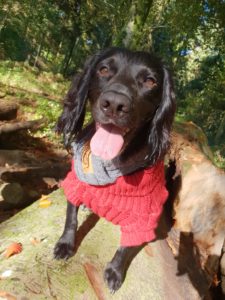 In practical terms, the soft knit makes it easy to slip over the dog's head and to slip their legs through the front two holes. Some jumpers can be a bit awkward to fit but this was really nice and took only seconds to get on, even with a fidgety spaniel, so it would certainly suit all dogs, even older dogs with stiff joints that cannot bend too much.
I think the set is perfect. For myself personally it would work best on a crisp, frosty and dry day, as my spaniel has a habit of always coming back soggy, either from finding a puddle to paddle in or from the wet grass. Rather than risk spoiling the set, I would keep it for those drier walks, where I know we won't come across any water or mud.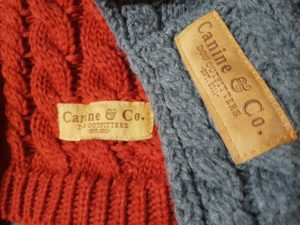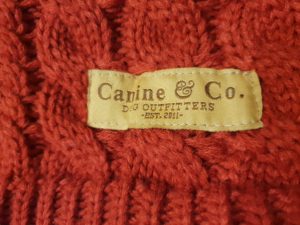 Overall, we are really impressed with this set. It keeps your dog warm and cosy, whilst making them look super stylish at the same time – what could be better! The colours and design are spot on. We had many positive comments about them, and many people said they want one now that they've seen Gunner!
If you would like to follow Katie and Gunner's lead and purchase your very own jumper and scarf set, follow this link!