At Bath Country Pets we strive to provide an enriching and fun filled staycation for all our guest's, and we tailor each day, to match their energy needs, desires & comforts. Our hotel provides a very calm and happy atmosphere where dogs of all ages, sizes and breeds mingle together in harmony. This is only achieved if we are careful and considerate in our selection process at the start of enrolling a new guest.
We have puppies who enjoy the gentle socialisation, seniors who love the home comforts and more high energy guest's who strive in our adventurous & social set up with one thing in common, they are happy in the company of other dogs and happy under the supervision of our caring team. Take it from our guest's – they all love the different aspects that BCP has to offer for them!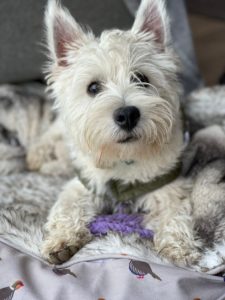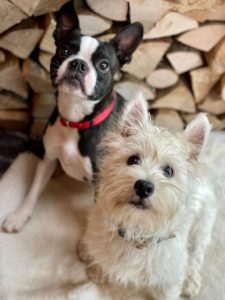 Rupert
Rupert the Westie puppy loves coming to BCP to be gently mixed with our other 'staycationers', helping to develop his social skills at a key age. Rupert is encouraged to continue his training from home and instil his good manners.
He enjoys the open space of our paddock to practise basic commands and recall. Minnie the Dachshund will join in too, then encourage Rupert for a bounce around and enjoy some playtime! He loves making new friendships and seeing his usual paw pals.
Lawrence
Lawrence sometimes struggles with separation anxiety and has come milestones since his first ever visit with us. He is a fun loving character who needs gentle reassurance, then he is full of confidence, ready to play and be involved in the action with our other guest's!
Lawrence really appreciates the human interaction and has built a very special bond with the team. With gentle re-introductory sessions of daycare and overnight visits, he has built up his familiarity with the space and is now a relaxed, happy pup who slips into routines with complete ease.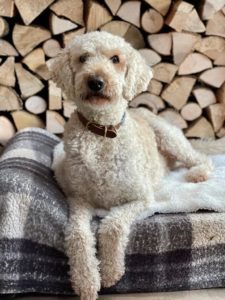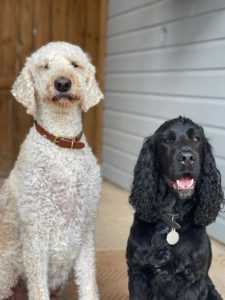 Barney
Barney is a senior guest and a man of routine! Barney loves the cosy atmosphere of the hotel and on arrival, heads straight to the bed by the log burner! He really appreciates the relaxed environment, affection from the team and gentle strolls around the countryside. His brother and sister stay with him too, so he enjoys hanging out with them but also appreciates when they run off to play with some of the younger ones, leaving him to relax!
Barney is food driven, so there is nothing more he loves than enrichment hour, where he is challenged to smell, forage and taste his rewards using liki matts, snuffle matts and fun brain training games. When the clock strikes
10pm
, Barney is ready to line up outside his bedroom suite which is always reserved for him on each visit, this keeps consistency in his routines here and keeps him feeling truly at home.
Rosie
Rosie comes from a working line so requires a lot of stimulation both physically & mentally. When our walking routines begin
at 11am
, Rosie is ready to have a large adventure with opportunities to enjoy off lead exploring. She loves to sniff, scan and check in with the team when out on her adventures! She has a great relationship with the staff and thoroughly enjoys the active side the hotel has to offer. Daily check overs ensures she stays in tip top condition and is free from grass seeds or minor irritations.
After a day of adventure, brain training games and retrieval fun in the paddock, there is nothing more she loves than a big snuggle by the cosy fire. The hotel is a great experience for Rosie as it allows her to continue keeping socialised with our other guests's and fulfils her needs, keeping her a relaxed and happy girl.
Our staycations are fun filled and personalised to your dogs specific needs so that they get as much out of their stay as possible. Reinforcement training, good manners, physical exercise, mind challenges and safe, reassurance is all part of their routine here. We hope to deliver you back a content, relaxed pet who has enjoyed his or her holiday as much as you have on your own well-earned break.