This year we have been building and adding the finishing touches to our exciting new addition to the BCP site – The Bath House Spa.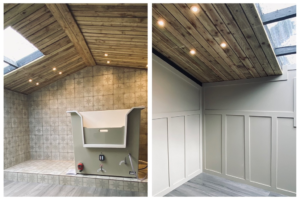 Our purpose-built spa has been designed to be the ultimate luxurious experience for your precious companion, making every effort to create a calming and positive, environment. Our philosophy at BCP has always been to take each guest as an individual and tailor their experience to their character & needs. We wanted to carry this ethos through to The Bath House Spa and create an experience which is rewarding, soothing and positive for our furry spa clients.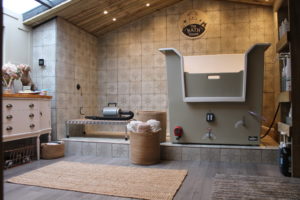 What Does a Spa Day Include?
The day is a 6 hour session which starts with careful introduction to a small group of fellow guest's, matching energy levels and temperament for supervised
play. We then head out on a small pack walk, taking in the sights & smells of the beautiful countryside which is right on our door step. We have a large paddock situated on site where guests are free to play & roam before their spa treatment and also indulge in some scent games & brain challenges for some extra fun.
This then sets the tone for a relaxing bath session and the pampering begins!
Our specialised hyrdrobath delivers water at the perfect temperature and recycles the soapy suds for a thorough, deep clean. We shampoo, massage and condition the coat before rinsing through and lightly towel drying using our cute doggy gowns. Dead hair is stripped out with our blaster and mats and tangles are removed gently and carefully.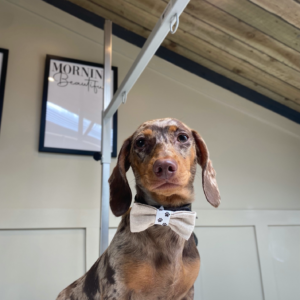 The Exclusive Spa Treatment's We Offer
We have a calm, unhurried approach using enrichment tools to keep minds occupied whilst we do our work, resulting in a happier and more relaxed dog. We take our time with bathing, reward our spa visitors throughout their treatments and use high quality natural products derived from essential oils & botanicals.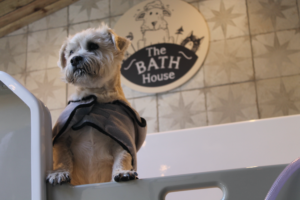 Bath and Brush Up Options:
Conditioning Shampoo – with organic aloe vera, grapefruit & mandarin oil.
Deep Cleansing Shampoo and skin stimulation massage- with organic aloe vera, rosemary & eucalyptus oil.
Super Soothing Shampoo and massage – with organic lavender, oat extract & pachouli oil.
Additional Treatments :
Pawdecure – Nail clip & buff to smooth rough edges. Trim for hairy toes and nourishing paw balm applied.
Coat Shine & Skin Rub – finishing treatment enriched with sweet almond oil, rose and ylang ylang.
Ear Care & Cleanse Package – ear plucking, wet and dry cleansing treatments for healthy ears
Hand Strip – by arrangement
Cut & Style – by arrangement
To maintain the perfect pooch at home we even offer our exclusive Bath House Wash Bag – containing an organic solid shampoo bar, perfect for a quick spruce up of paws or tum after a muddy walk, soothing balm to keep pads and noses in tip top condition and a freshening spritz for coats.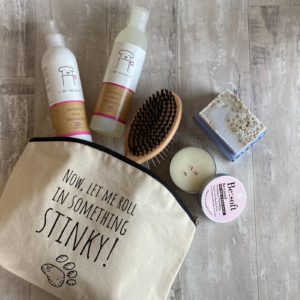 If you think your companion deserves a pamper or perhaps their aroma is a little more 'countryside' than you would like. Book them a spa day, click on our online booking button, choose a day that suits your schedule, select the size of dog which best describes yours and their breed. Reserve your booking with a deposit and we will be in touch to discuss how we can make your dogs Spa Day extra special in the Bath Country Pets way.