We are exploring the benefits of play and how harnessing our pets energy into some seriously fun brain training or a rewarding game of tug of war can be a great addition to their daily routines and ultimately result in a content companion. Having a game of chase or hide & seek with our pets is fun, but it has many more benefits than you might think!
Play is a natural drive that our pets find rewarding, stimulating and comforting. There are different types of players, some of which will find comfort in cuddly toys and others who prefer more of a challenge. Finding their favourite type of toy and interchanging the variety can help keep them active, engaged and make them feel more personally fulfilled.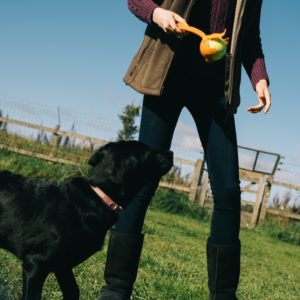 Play activities provide mental stimulation for our pets as well as a physical release. Endorphins, which are the happy chemicals in their brains are researched to be released during stimulating play activities. This is why play can have such a beneficiary role when coming to our dogs or cats mental well being. Activities alleviate boredom and they decrease the likelihood of our dogs developing behavioural issues such as excessive barking digging or chewing or cats scratching and it's a great reliever of stress.
It's also a way to work on some basic training and improve manners, especially for our younger puppies. This is the time they learn key skills discovering the good manners around playtime – with a little discipline from you and their peers they find out what is socially acceptable by other dogs and humans, which is key in their social development.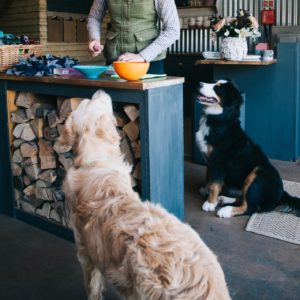 When we play with our dogs they are also learning social cues from us, so having a game of tug of war or a spot of retrieval training is a great way to teach your dog how to control their impulses and also teaches them how gentle they should be when using their mouth. It can also be an appropriate way to reward your pet during training, if not driven by food or affection, after a successful command let them play with their favourite chew toy to release the endorphins and have them feel satisfied after doing something correctly.
Ultimately, playing with our pets builds an incredible bond between one another and it's a great way to solidify your relationship & trust, resulting in one happy hound as well as a happy owner.
Adding a few brain training activities and their favourite game of chase a few times a day can decrease the likelihood of developing destructive habits and prevents them from having to come up with ways to entertain themselves, which may involve chewing up your chair leg or shoe!
These are some of our favourites from our collection for every type of toy lover – these are carefully selected by us and tried & tested by some of our furry team.
????
For the thinkers
Snuffle Matt – our snuffle mats are the perfect sensory activity for keeping dogs guessing & engaged. These are a great tool to tire a busy mind, reduce stress and practice using their noses. Just remember to utilise snuffle mats correctly, they are not a toy to be left with your dog but a supervised exercise – 10 minutes of play with a snuffle mat is a real cerebral workout and equivalent to at least a 30-minute session of physical exercise.
https://bathcountrypets.co.uk/shop/snuffle-mat-kit/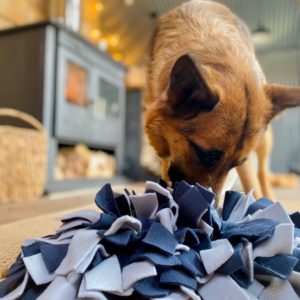 For the lickers
Tuff Series Liki Matts – tough mats are robust, dishwasher safe liki mats which can be used with both wet & dry treats. It is a good challenge for a busy mind and brilliant for reducing stress. Again be sure to take the mat off the floor as soon as the work is done, its a tempting texture to chew for some dogs.
https://bathcountrypets.co.uk/shop/liki-mat-tough/
For the chewers
Antler – brilliant for determined chewers, these antlers are long-lasting and keeps the boredom at bay. Our antlers are all sustainably sourced.
https://bathcountrypets.co.uk/shop/antler-chews/
For the ball chasing lovers
Thro Bizz Selection – a range of balls designed for every type of ball lover. From floating, super tough and photoluminescent for evening walks.
https://bathcountrypets.co.uk/shop/ball-selection-thro-bizz/
For the cuddlers
Tweed Hare or Fox – the perfect size for the ultimate chin resting position, a very comforting toy.
https://bathcountrypets.co.uk/shop/tweed-hare/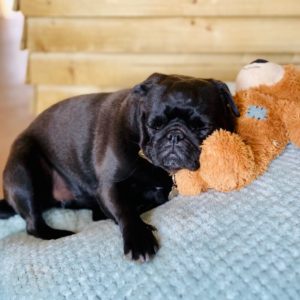 For the gnawers
Sheepskin Rabbit- A fabulous, fur-trimmed tug toy with no stuffing is a good choice if you have a determined 'un-stuffer' in the family. Made from natural materials, this toy is safe to gnaw on and doubles up as a fun tug toy.
https://bathcountrypets.co.uk/shop/sheepskin-trimmed-posh-rabbit/
For the Retrieval obsessed!
The Lobber – made from heavy-duty, showerproof fabric, this is a great non-squeaky, tough toy perfect for retrieval fun.