Time for a Team Round Up!
Spring is certainly in the air, we are starting to see little lambs appearing in the fields, daffodils poke their strong green leaves up through the hedges on our walks.  I think we will all be very grateful when the temperature also starts to warm up and become a little more Spring like!
SIAN'S NEWS 
We have some lovely news to share with everyone regarding our much loved Hotel Manager Sian who after several years of pouring her affection into our furry family,  is very excited to be starting her own family, with partner Clive. Their baby boy, is due in July and we are determined to make sure that Sian feels thoroughly spoiled and appreciated in her run up to her maternity leave, which starts at the end of May.  
I am sure that you and all of our other clients will be delighted for her!  On that note, we are organising a 'Garden Party – Baby Shower' on Saturday the 10th of June with cakes, balloons and lots of good wishes to send her on her way.  Please feel free to join us if you would like to and help us spoil her rotten.  Specific timings for the party will be released closer to the time but be sure to mark it in your diary.
We are very fortunate that Sian's role will be taken on by one of our very first employees Rhiannon, who has been studying a degree in Photography down in Falmouth for the past 3 years and is due to graduate this summer.  Rhiannon has a passion for the Bath Country Pets business having been involved from the very start, and has been regularly back to us to work during her holidays when she can and is really excited to join the team full time.  She is an amazing photographer with a huge talent and and of course,  a barely controllable passion for dogs!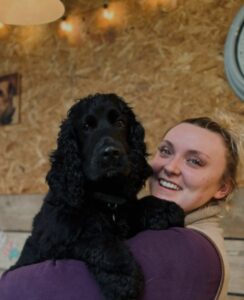 LULAH'S NEWS
We also have exciting news for Lulah who is going to start her apprenticeship training in Grooming this year and will be increasing her skills in that specialist area as well as taking on some additional responsibility around the hotel, to support Rhiannon.  Lucy will be supporting Lulah twice per month in her grooming training as well as our new Full Time Groomer Daisy.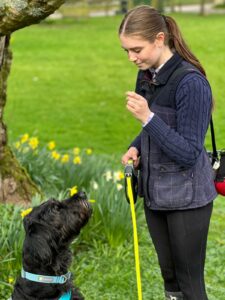 NICOLE'S NEWS
Nicole who joined us in May last year is thoroughly integrated and has completed her Guest Services Training with us here with flying colours, her passion is in dog training and obedience and she is about to embark on an off site course to further her knowledge with a Foundation course with the Association of Pet Dog Trainers.  Nicole will be offering training top up sessions to our clients in the future, so watch this space.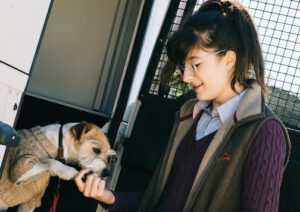 HELLO TO SOME NEW FACES
You are sure to meet, Daisy our Dog Groomer, Daisy who joins us with a wealth of experience in grooming, animal care and dog walking.  Daisy was a human beauty and massage therapist in her former career and has a particular passion for holistic treatments and aromatherapy.  Daisy takes a very caring and gentle approach to dog grooming which is completely aligned with our values within Bath Country Pets and we are excited to be able to offer additional treatments and therapies with her expertise.
Last but by no means least are Mae and Magdalena our new part time Guest Services Assistants, Magda joins us with exuberant enthusiasm and a passion for dogs, she is looking forward to joining the team and getting to know all of the 4 legged guests and their owners.  And Mae has grown up with the business and taken up the serious role of 'evening cuddle manager' and bedtime supervisor as an interim career, whilst she finishes her A levels and plans her future. She also benefits from the minimal commute to work as she is our lovely eldest daughter!
Please welcome all of these lovely new people to the team, we often feel like your pets are our extended family and you as customers are all included in that too!