We are blessed with a gorgeous location, beautiful views and fantastic facilities but all of this means nothing without our enthusiastic, kind and dog-loving team. We have selected these wonderful individuals to join our business because they share the same values, they are motivated to do their very best, and have a great attention to detail. It is our vision to aim high, deliver consistently excellent care, we have a culture of improvement and we look to develop our people, our own skills and our services. Here is an insight into some of our team members, why they love what they do and how we genuinely feel like they are part of our extended family.
Our Hotel Manager Sian
'I've been with Bath Country Pets coming up to 3 years now and have loved every moment! When I first got in touch and discovered the business, I instantly fell in love! I adore how this space allows you to see guest's usual behaviours as if they were at home, watching their personalities blossom and see them up to their usual tricks – such as chasing after Heidi the Cocker Spaniel as she steals the kitchen towel! (a trick we found she likes to play at home too!) or watching the guest's as they form new friendships with the staff and other guests – it's so special to see!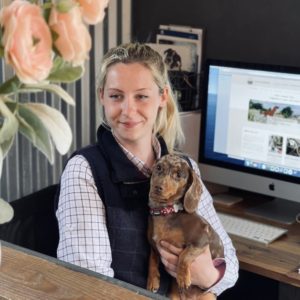 Growing up I have always had a strong passion for animals, nature and photography, you would always find me taking photos in the countryside or of my dogs I have at home! I found my love for dogs to be particularly strong, I have 4 myself and find them to be such individual characters! I have two Westie's Bonnie & Rupert, a Pomeranian Toby and a Bichon Frise mix Misty. I love their cheeky personalities and how strong our bond is as a small pack at home!
Being a part of this unique space was a big dream for me and a massive achievement to work with animals full time. I love how this role allows me to connect with guest's on a personal level and care for them as if they were our own! I am currently at the end of my level 2 animal management and welfare course which I have found very useful and interesting, I hope to develop my skills even more with animal behaviour, training and team management!
Shift Leader and Professional Cuddler, Tallulah Says…
"Working at Bath Country Pets has given me so much confidence and knowledge working with dogs, we have many different characters coming in it's and so it is always exciting. I have always had a passion for animals, especially a love for dogs. At home we have three dogs all of which are completely unique. Working here has definitely shown me how different and individual all the dogs are."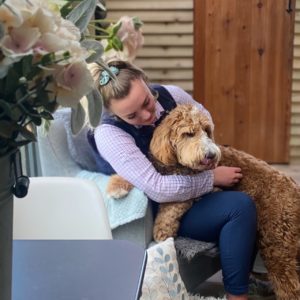 "Growing up in the countryside, I have always loved the peace and quiet it brings, we are so lucky to have such a gorgeous countryside here in the Cotswolds. One of my favourite parts of my role here at BCP is the opportunity we have to explore the wonderful footpaths in the surrounding areas. I've always adored being outside with nature, my first role working alongside animals was with horses at a 4* eventing yard, horses have always been a passion of mine. My friends and I take any opportunity we can to go out for long hacks especially in the summer time! It's a dream of mine to have my own horse one day."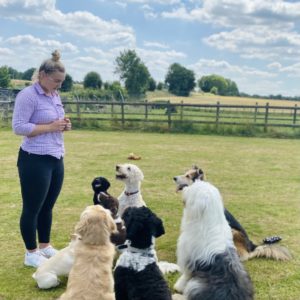 "I am currently completing Animal Management and Welfare Apprenticeship at Level 2. Whilst doing this course it has given me so much knowledge, which I use in my everyday life at work and home. The subjects I've found most interesting are Behaviour and Nutrition. They both are so important and I can always use what I've learnt at work when caring for the dogs. I have also completed my Maths and English exams along side my course and will be completing my Animal Management in the next few months which are both big accomplishments for me. In the future I am looking forward to expanding my skills after my course and gaining more knowledge in Behaviour and Nutrition.
"Every day here is always exciting and full of variation, working alongside like minded people and within a great team makes it feel like one big family! "
Our Newcomer Nicole…
"I have been studying Animal Management Level 3 for 2 years now, which has given me a range of experience working with all different kinds of animals. I always love to use my experiences and knowledge when I'm at work or at home, especially with my dog Lily who's a Vizsla and my new chickens. Finishing this course is going to be a massive achievement for me. I have always had a passion for dogs and I would love to pursue more careers working with them. I especially enjoyed learning all about Physiotherapy and Training for dogs during my course."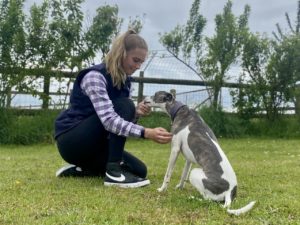 "Working at Bath Country Pets allows me to learn more every day and make the most of the outdoors. I have grown up in the countryside and love exploring new places, being able to go for long walks and make the most of the lovely countryside makes me feel very grateful. There is never a dull day here, thanks to all the lovely guests making each day special. I love getting to know every guest that arrives and getting to know their different personalities."Being able to work with such a great team that share the same passion for dogs, inspires me to make the most out of my work and enjoy everyday.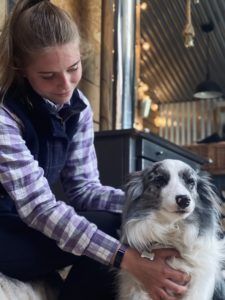 Working in this environment has shown me how all the guest's are all like mini people – with their unique and fun loving characters!
Introducing Lucy, a new addition to the hotel team and you will find her in the Bath House Spa amongst other places!
Hi I'm Lucy, I am a member of the bath country pets team, in the Hotel and also as a groomer, here's a bit about me. I gained my Dog Grooming Qualification, City & Guilds level 2 in 2018, and my level 3 in 2019, along with a Canine First Aid Certificate.
I have also attended Doodle Grooming Workshops, and most recently an Asian Fusion Grooming Course. I intend to expand on my skills further, do more courses on specific grooming technics this year.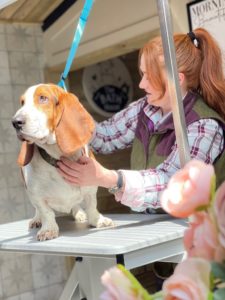 I have a love of animals, which was a driver to seek training in the animal care industry and a particular a love of dogs which have always been a big part of my life. Over the years we have had family pets ranging from Old English Sheep Dogs, Yorkshire Terriers, an Afghan Hound and of course a few unidentified mixed breeds! Currently we have a French bulldog and a Viszla. I have loved working at Bath Country Pets so far, and love meeting and spending time with all our guests, it really is a pleasure to do this job!
Our very first employee Rhiannon who is still very much part of the team in between her studies at Falmouth University.
I have been working at Bath Country Pets since the start, which is roughly 5 years now! It all started when I did my work experience placement as part of my Level 3 extended Diploma in Animal Management at Hartpury College. After that, Emma and Neil couldn't get rid of me as I was hooked! I would come back on weekends and during my holidays to help look after all of the dogs. Working here really is a dream come true – to get to be with dogs all the time and in such a lovely environment where everyone has such a positive mindset and is up for a good laugh. It makes coming to work a fun activity rather than it being a chore.
I have absolutely loved watching this small business flourish and grow! I can still remember my first shift when the only guests where Boo and Maud, still regulars today. We cozied up by the fire before heading out for a walk and had so many cuddles.
I am very lucky that after finishing college and starting university, they still let me come back to continue working during the non-term times. I am currently in my second year at Falmouth University studying Marine and Natural history Photography (basically wildlife photography). Its amazing to get to explore and capture stunning wildlife and to live in such a beautiful part of the world! But of course when I'm away I miss the dogs so much! It means that I always have to stroke the ones that I meet at the beach. I have also just bought a Bath Country Pet sandpiper bed and a seagull toy for when Maisy, my cocker spaniel comes and visits me and we can go on lovely Cornish adventures – a pasty for me at the end and a venison sausage for her sounds like an excellent end of walk treat!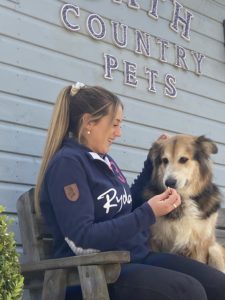 I am also wanting to include dogs in my dissertation which I am starting to think about and plan. I want to look at the domestication and ancestors of the dog, their job roles and then why dog breeds suffer from having certain stereotypes. My aim is to challenge ideas people have on dogs and prove that an individual dog can be bad but that doesn't mean the whole breed is. I think having worked with so many different dogs and seeing all of their amazing personalities I want to show that they shouldn't be judged for how they look and emphasise the need of positive reinforcement training.
When I'm not with dogs you'll definitely find me with other animals! I love to ride and get to go on great hacks through the countryside at uni. I also used to work at a rabbit hotel and rescue centre before working here and have worked at a wildlife park which had tiger, otters, wolves and so much more!
Im looking forward to see what happens in the future and to learn and develop my skills further, but at the same time I'm simply enjoying my time now and making the most of it all!